Mud Terrain Light Truck Tire
Designed for enthusiasts who require extra ground clearance, load-carry capacity and off-road capability. As an added bonus it also provides great on-road performance.
Great On or Off Road Performance
The Open Country M/T incorporates new production technology along with Toyo's award winning DSOC II Technology. What this means for you is levels of uniformity and durability unmatched by other mud terrain tires. This advanced balance and construction strength provides uncompromised control. Combined with an enhanced look for added style, the Open Country M/T makes any light truck look better!
Aggressive, Attack Tread Design with Hook shaped blocks
Delivers excellent off-road traction and great on-road performance.
Image:
Open, Scalloped Shoulder Blocks and Over-The-Shoulder Tread
Provides maximum traction regardless of terrain.
Image:
Deep Siping In The Tread Blocks
Help maintain grip on wet surfaces.
Image:
High Turn-Up, 3-Ply Polyester Casing
Strengthens tire to provide excellent handling and durability while maintaining proper load capacity.
Image:
| Tire Size | Load/Speed | Product Code | Approved Rim Width Range (inch) | Overall Diameter (inch) | Overall Width (inch) | Sidewall | Tread Depth (1/32") | Revs/km | Max Load Single (lbs.) | Max Pressure Single (psi) |
| --- | --- | --- | --- | --- | --- | --- | --- | --- | --- | --- |
| 31x10.50R15LT | 109Q | 360490 | 7.0-(8.5)-9.0 | 31.1 | 10.7 | BL | 19 | 414 | 2270 | 50 |
| 33x10.50R15LT | 114P | 360470 | 7.0-(8.5)-9.0 | 32.8 | 10.9 | BL | 19 | 393 | 2600 | 50 |
| 33x12.50R15LT | 108P | 360100 | 8.0-(10.0)-11.0 | 33.1 | 12.8 | BL | 21 | 390 | 2205 | 35 |
| 33x13.50R15LT | 109Q | 360290 | 8.5-(11.0)-11.0 | 33.1 | 13.9 | BL | 21 | 390 | 2270 | 35 |
| 35x13.50R15LT | 114Q | 361000 | 8.5-(11.0)-11.0 | 34.8 | 14.4 | BL | 21 | 370 | 2270 | 35 |
| 37x14.50R15LT | 120Q | 360260 | 10.0-(12.0)-12.0 | 36.7 | 15.6 | BL | 21 | 352 | 3080 | 35 |
| LT305/70R16 | 124P | 360110 | 8.0-(9.0)-9.5 | 33.1 | 12.2 | BL | 20 | 390 | 3525 | 65 |
| LT385/70R16 | 130Q | 360480 | 10.0-(11.0)-12.0 | 37.7 | 15.6 | BL | 21 | 342 | 4180 | 50 |
| LT245/75R16 | 120P | 360450 | 6.5-(7.0)-8.0 | 30.8 | 10 | BL | 18 | 419 | 3042 | 80 |
| LT265/75R16 | 123P | 360320 | 7.0-(7.5)-8.0 | 31.9 | 10.8 | BL | 19 | 405 | 3415 | 80 |
| LT285/75R16 | 126P | 360280 | 7.5-(8.0)-9.0 | 33 | 11.2 | BL | 19 | 390 | 3740 | 80 |
| LT315/75R16 | 127Q | 360230 | 8.0-(8.5)-10.0 | 34.9 | 12.9 | BL | 21 | 370 | 3860 | 65 |
| LT235/85R16 | 120P | 360440 | 6.0-(6.5)-7.5 | 32 | 9.4 | BL | 18 | 403 | 3042 | 80 |
| LT255/85R16 | 123P | 360460 | 6.5-(7.0)-8.0 | 33.5 | 10.2 | BL | 19 | 385 | 3415 | 80 |
| 33x12.50R17LT | 120Q | 360760 | 8.5-(10.0)-11.0 | 32.8 | 12.5 | BL | 21 | 394 | 3085 | 65 |
| 35x12.50R17LT | 125Q | 360310 | 8.5-(10.0)-11.0 | 34.8 | 13.2 | BL | 21 | 370 | 3640 | 65 |
| 37x12.50R17LT | 124Q | 360770 | 8.5-(10.0)-11.0 | 36.8 | 12.5 | BL | 21 | 351 | 3525 | 50 |
| 37x13.50R17LT | 131Q | 360270 | 8.5-(11.0)-11.0 | 37 | 14.6 | BL | 21 | 348 | 4300 | 65 |
| 40x13.50R17LT | 121Q | 361010 | 8.5-(11.0)-11.0 | 39.7 | 14.4 | BL | 21 | 324 | 3195 | 35 |
| LT265/70R17 | 121P | 360130 | 7.0-(8.0)-8.5 | 32 | 10.8 | BL | 19 | 403 | 3195 | 80 |
| LT285/70R17 | 121P | 360650 | 7.5-(8.5)-9.0 | 33 | 11.5 | BL | 19 | 391 | 2910 | 80 |
| LT295/70R17 | 128P | 360360 | 8.0-(8.5)-9.5 | 33.5 | 12 | BL | 19 | 385 | 3970 | 80 |
| LT315/70R17 | 121Q | 360780 | 8.0-(9.5)-11.0 | 34.6 | 12.7 | BL | 20 | 373 | 3195 | 65 |
| LT255/75R17 | 111Q | 360790 | 6.5-(7.0)-8.5 | 32.3 | 10 | BL | 18 | 400 | 2405 | 50 |
| LT285/75R17 | 121P | 360430 | 7.5-(8.0)-9.5 | 34.1 | 11.6 | BL | 19 | 378 | 3195 | 80 |
| 33x12.50R18LT | 118Q | 360340 | 8.5-(10.0)-11.0 | 33 | 12.7 | BL | 21 | 391 | 2910 | 65 |
| 33x12.50R18LT | 122Q | 360810 | 8.5-(10.0)-11.0 | 32.8 | 12.5 | BL | 21 | 394 | 3305 | 80 |
| 35x12.50R18LT | 123Q | 360090 | 8.5-(10.0)-11.0 | 35 | 13.2 | BL | 21 | 368 | 3420 | 65 |
| 35x12.50R18LT | 128Q | 360820 | 8.5-(10.0)-11.0 | 34.8 | 12.5 | BL | 21 | 372 | 3970 | 80 |
| 37x13.50R18LT | 124Q | 360300 | 8.5-(11.0)-11.0 | 37 | 14.2 | BL | 21 | 348 | 3525 | 50 |
| 38x13.50R18LT | 126Q | 360380 | 8.5-(11.0)-11.0 | 37.7 | 14.4 | BL | 21 | 342 | 3750 | 50 |
| 38x15.50R18LT | 128Q | 360180 | 11.0-(12.0)-13.0 | 37.7 | 15.9 | BL | 21 | 342 | 3960 | 50 |
| LT275/65R18 | 123P | 360620 | 7.5-(8.0)-9.0 | 32.3 | 11 | BL | 19 | 400 | 3085 | 80 |
| LT275/70R18 | 125P | 360120 | 7.0-(8.0)-8.5 | 33.6 | 11 | BL | 19 | 383 | 3640 | 80 |
| LT285/70R18 | 127Q | 360590 | 7.5-(8.5)-9.5 | 34.1 | 11.4 | BL | 19 | 378 | 3860 | 80 |
| LT295/70R18 | 129P | 360640 | 7.5-(8.5)-10.0 | 34.5 | 11.8 | BL | 19 | 374 | 3750 | 80 |
| LT315/70R18 | 127Q | 360560 | 8.5-(9.5)-10.0 | 35.7 | 13 | BL | 21 | 361 | 3860 | 65 |
| LT285/75R18 | 129P | 360420 | 7.5-(8.0)-9.5 | 35.1 | 11.6 | BL | 19 | 367 | 4080 | 80 |
| 33x12.50R20LT | 114Q | 360330 | 8.5-(10.0)-11.0 | 33 | 12.6 | BL | 21 | 391 | 2600 | 65 |
| 33x12.50R20LT | 119Q | 360830 | 8.5-(10.0)-11.0 | 32.8 | 12.5 | BL | 21 | 394 | 3000 | 80 |
| 35x12.50R20LT | 121Q | 360240 | 8.5-(10.0)-11.0 | 35 | 13 | BL | 21 | 368 | 3200 | 65 |
| 35x12.50R20LT | 125Q | 360800 | 8.5-(10.0)-11.0 | 34.8 | 12.5 | BL | 21 | 372 | 3640 | 80 |
| 37x12.50R20LT | 126Q | 360750 | 8.5-(10.0)-11.0 | 36.8 | 12.5 | BL | 21 | 351 | 3750 | 65 |
| 35x13.50R20LT | 126Q | 360860 | 9.5-(11.0)-12.0 | 34.8 | 13.6 | BL | 21 | 372 | 3750 | 80 |
| 37x13.50R20LT | 127Q | 360220 | 8.5-(11.0)-11.0 | 37 | 14 | BL | 21 | 348 | 3860 | 65 |
| 38x13.50R20LT | 124Q | 360390 | 8.5-(11.0)-11.0 | 37.7 | 14.4 | BL | 21 | 342 | 3525 | 50 |
| 38x15.50R20LT | 125Q | 360190 | 11.0-(12.0)-13.0 | 37.7 | 15.9 | BL | 21 | 342 | 3640 | 50 |
| 40x15.50R20LT | 130Q | 360370 | 11.0-(12.0)-13.0 | 39.7 | 15.9 | BL | 21 | 324 | 4190 | 50 |
| LT275/55R20 | 115P | 360670 | 7.5-(8.5)-9.5 | 32.1 | 11.2 | BL | 19 | 402 | 2680 | 65 |
| LT295/55R20 | 123P | 360610 | 8.0-(9.5)-10.0 | 33 | 12.2 | BL | 19 | 391 | 3085 | 80 |
| LT305/55R20 | 125Q | 360870 | 8.5-(9.5)-11.0 | 33.5 | 12.4 | BL | 20 | 386 | 3640 | 80 |
| LT285/60R20 | 125/122Q | 361040 | 8.0-(8.5)-10.0 | 33.5 | 11.5 | BL | 19 | 386 | 3640 | 80 |
| LT295/60R20 | 126P | 360660 | 8.0-(8.5)-10.0 | 34.2 | 11.8 | BL | 19 | 378 | 3750 | 80 |
| LT315/60R20 | 125Q | 360510 | 9.5-(9.5)-11.0 | 35 | 12.6 | BL | 21 | 368 | 3640 | 65 |
| LT275/65R20 | 126P | 360410 | 7.5-(8.0)-9.5 | 34.5 | 11 | BL | 19 | 373 | 3750 | 80 |
| LT295/65R20 | 129P | 360630 | 8.0-(8.5)-10.0 | 35.4 | 11.8 | BL | 19 | 365 | 3750 | 80 |
| 33x12.50R22LT | 109Q | 360520 | 8.5-(10.0)-11.0 | 33 | 12.4 | BL | 19 | 391 | 2270 | 65 |
| 33x12.50R22LT | 114Q | 360840 | 8.5-(10.0)-11.0 | 32.8 | 12.5 | BL | 19 | 394 | 2600 | 80 |
| 35x12.50R22LT | 117Q | 360540 | 8.5-(10.0)-11.0 | 35 | 12.8 | BL | 21 | 368 | 2835 | 65 |
| 35x12.50R22LT | 121Q | 360850 | 8.5-(10.0)-11.0 | 34.8 | 12.5 | BL | 21 | 372 | 3195 | 80 |
| 37x13.50R22LT | 123Q | 360210 | 8.5-(11.0)-11.0 | 37 | 14 | BL | 21 | 348 | 3420 | 65 |
| 40x15.50R22LT | 127Q | 360200 | 11.0-(12.0)-13.0 | 39.7 | 15.9 | BL | 21 | 324 | 3860 | 50 |
| 37x12.50R22LT | 127Q | 361050 | 9.0-(10.0)-11.5 | 36.8 | 12.5 | BL | 21 | 351 | 3860 | 80 |
| LT325/50R22 | 122Q | 360880 | 9.0-(10.0)-12.0 | 35.1 | 13.2 | BL | 20 | 368 | 3305 | 65 |
| 37x13.50R24LT | 120Q | 360350 | 8.5-(11.0)-11.0 | 37 | 13.6 | BL | 21 | 349 | 3085 | 65 |
| 40x15.50R24LT | 128P | 360680 | 11.0-(12.0)-14.0 | 39.8 | 15.4 | BL | 21 | 324 | 3970 | 65 |
Toyo Tires warranty program
PASSENGER & P-METRIC LIGHT TRUCK TIRE LIMITED WARRANTY- complete details
Wild TV Testimonial of Toyo Tires
The "FITS" on the OPEN COUNTRY M/T
Vehicle fitments for the Open Country M/T include the following makes and models:
Chevrolet Silverado 2500
Ram 1500
Ram 2500
Ram 3500
Ford F250
Ford F350
Ford Raptor
Jeep Wrangler
Mercedes-Benz Sprinter 2500
Chevrolet Express 2500
Chevrolet Express 3500
Tread Talk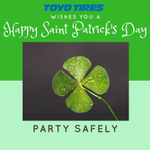 Happy Saint Patrick's Day! Lucky it landed on a weekend this year. Have a great and safe day everyone! https://t.co/l9VsTFvGBJ